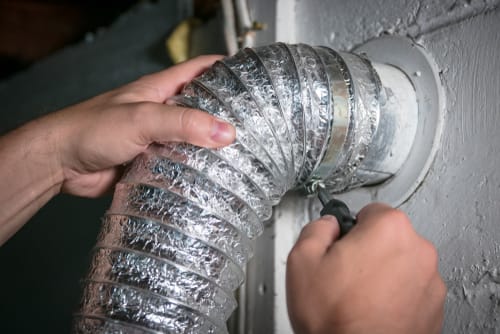 Dryer Vent Cleaning
Cleaning Your Dryer Vent: Our dryer vent cleaning services are thorough and efficient. It is important to us that our dryer vent cleaning technicians are well-trained, experienced, and expert in the industry. We offer affordable cleaning for your dryer vent so that every Houston homeowner, property manager, or tenant can benefit from the safety of a clean dryer vent. Secure your home and minimize the risk of any incidents in the future by scheduling your dryer vent cleaning today. If you need emergency service, please do not hesitate to call for your same-day or next-day appointment with one of our professional technicians.
Dryer Vent Maintenance Maintaining your dryer vents is important. When dryer vents are left dirty or are not cleaned for months and handled in an improper way there is a large chance of causing a fire hazard. Thousands of fires in homes each year are caused by dryer vents that are not taken care of. Unfortunately, this is not an exaggeration. You must maintain and clean your dryer vents if you expect to have a safe home for your family, friends, and guests. We can fully clean your dryer vents for an all-inclusive price whether they are fully clogged or not. We believe in helping customers for a fair price, even when they are in dire need of of service.
Importance of a Clean Dryer Vent
Nowadays, the use of a dryer machine is necessary almost in any home, especially in the wintertime when it's very hard to dry clothes outdoors. Due to the fact that using a dryer machine means spending money on energy, it is very important to maintain it. As you probably already know, a good dryer vent machine isn't cheap, but taking care of it will save you money in the future, and clean dryer vents will help you save energy and save money. The dryer vent, which is connected to the dryer machine itself, collects fiber cloth, lint, and clothing-related residues over time. To prevent damage to your dryer, it is very strongly recommended to clean the dryer vent at least once a year by a professional, and even better to do it twice a year. It is very important to maintain the cleaning of your dryer vent correctly and consistently. Most people contact a professional to come and clean their clogged dryer vent due to poor maintenance. In case you forgot or just didn't clean your dryer vent from time to time, the lint, dirt, dust, fiber cloth, etc, will accumulate to a point where your dryer machine suddenly will stop working. Take care of it today.
Dryer Vent Cleaning Saves You Money
An interesting and important fact is that a clogged dryer vent causes the dryer machine to work harder and this requires more electricity. If you didn't do so yet, contact our experts and request an appointment to inspect and clean your dryer vent as soon as possible to avoid problems in the future. Otherwise, don't be surprised when you see how your electric bill goes up as you use your dryer machine more and more times to dry your clothes completely. With professional dryer vent cleaning, you can save money by avoiding these issues.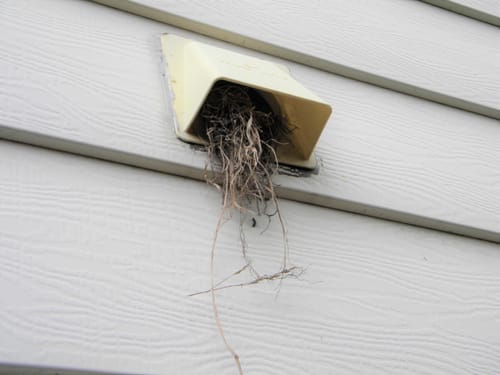 Number 1 in Industry
Our reviews speak for us, we have a high satisfaction rate from our customers and we always reach for excellence.

Professional Workers
Each one of our workers is professional trained to provide the best results to be able to figure out the solution to any issue.

Insured
Our company is fully insured for your and ours safety. We pay close attention to these details in order to provide a safe working environment.
Emergency Dryer Vent Cleaning
You must consider that it is an unforgettable fact that a clogged dryer vent can cause a fire and destroy your belongings, home, and even injure or fatally affect your family or guests. It is much easier and pleasant to call a professional dryer vent cleaning company and get your dryer vent cleaned and be out of danger. If your dryer vent is smoking or putting off a bad or burning odor, please contact us immediately for same-day emergency dryer vent cleaning.
Call (281) 888-0999 now for emergency service, or to schedule your routine dryer vent cleaning.